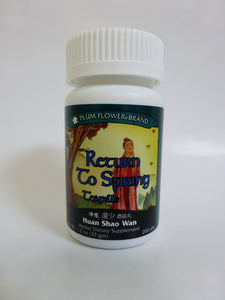 Plum Flower Brand 還少丸, Return to Lesser Years Pills
Description 
Warms the kidney, strengthens yang, strengthens the spleen, nourishes the heart, nourishes jing-essence, preserves the yin, and calms the shen.
For poor memory, hearing loss, and poor appetite.
Size
200 pills
Disclaimer: These statements have not been evaluated by the FDA. This product is not intended to diagnose, treat, cure, or prevent any disease. We recommend that you consult with a Traditional Chinese Medical practitioner or physician before using any products or if you have any questions regarding your health.